Welcome to the Maji De Watashi Ni Koi Shinsai!! Wikia
Maji de Watashi Ni Koi Shinsai! (真剣で私に恋しなさい!, Seriously Fall in Love with Me!), often abbreviated "Majikoi" (まじこい) is a Japanese adult visual novel developed by Minato Soft and released for the PC on August 28, 2009.
A manga adaptation has been publishing in Comp Ace since May 2010,
The Anime adaptation started aired on October 2011,
A sequel of the game is going to be released on January 27, 2012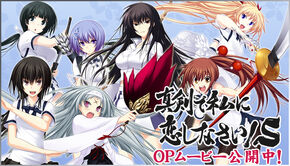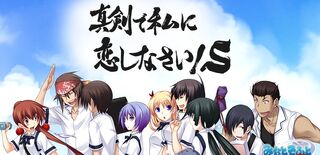 News
3/25 I added some photos and a corrected some grammars errors.
2/27 I finally completed majikoi S (and take a week for vacation), is time to work in the wiki again.
2/27 i want to thank 14servidor and FreedomYN for their contribution to the wiki.
1/29 I have been a little lazy these few days because i was playing majikoi S, addeed some photos and videos.
1/21 we passed the barrier of 30 pages. (as a side note, i can't believe FBI shutdown Megaupload, i though internet was free for everyone)
1/16 added some pages and videos , and also hope to get new members for the wiki.
1/11 we have reached the 20 pages, still a long way to go.
1/9 The url has been changed to majikoi.wikia.com Added some image and a few pages
Well I have adopted the wiki and little by little the wiki is taking form.
i hope you likes the few changes, there still alot more to come.
i have been wandering if the name of the wiki should change from Maji de Watashi ni koi Shinasai!! to Majikoi to make the things more simple.
Latest activity